Wholesale Custom Logo Printed Auto Open Double Layer Inverted Car Reverse Umbrella with C-Shaped Handle
Product Detail
Product Tags
Convenient automatic function for quick opening, high quality windproof system for maximum frame flexibility in stormy conditions, fibreglass rib construction, double cover with lasered ventilation pattern to avoid the build-up of air, trendy reflective piping in silver, soft-touch crook handle with promotional labelling option.
AUTO-OPEN REVERSE OUTDOOR UMBRELLA: Our design is the unique Auto-Open frame, unlike many other Manual reverse umbrellas. Just press a button, and watch the umbrella spring open. No more manual handling and getting wet when entering or exiting your vehicle! Perfect as a gift!
WIND RESISTANT, DURABLE, UV AND RAIN PROTECTIVE CLOTH: Forget about cheaply made stroller and car umbrellas once and for all! This auto-open reverse umbrella is made of heavy duty, thick, windproof, rain and sun protective cloth, keeping you safe and comfortable at all times.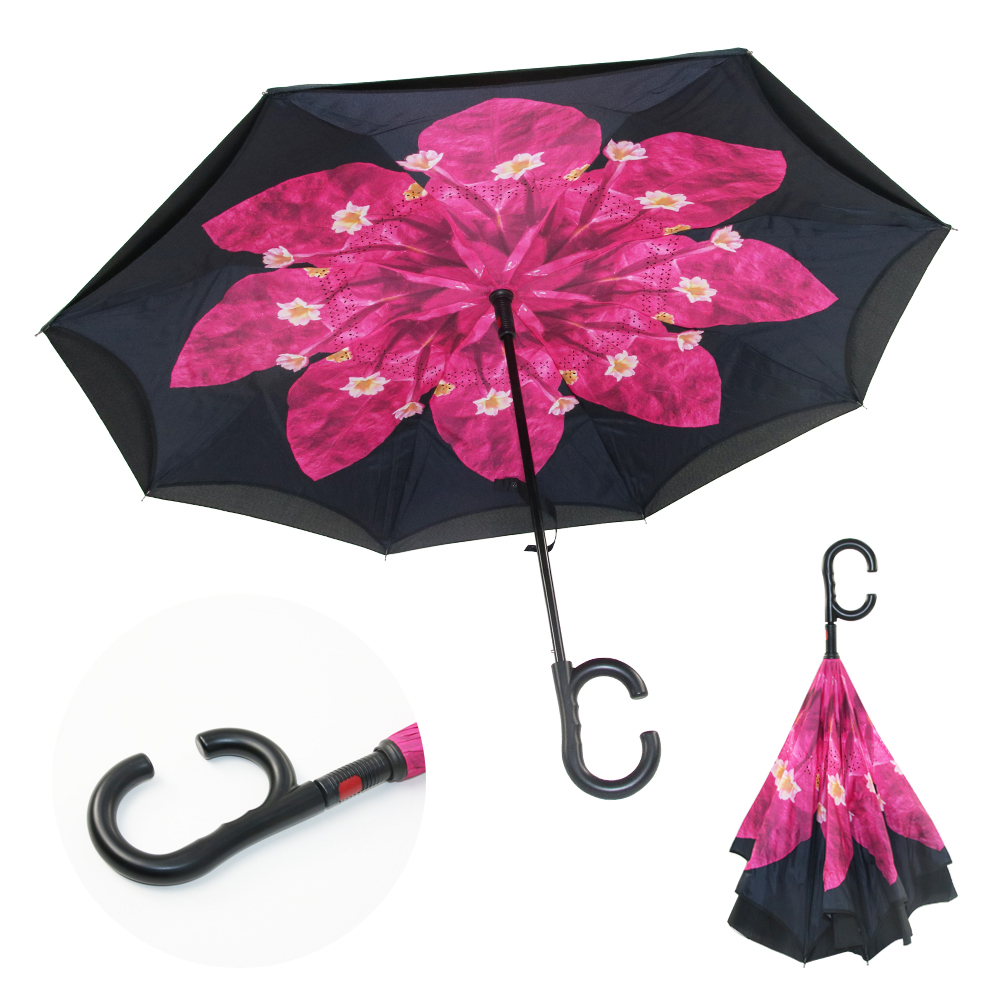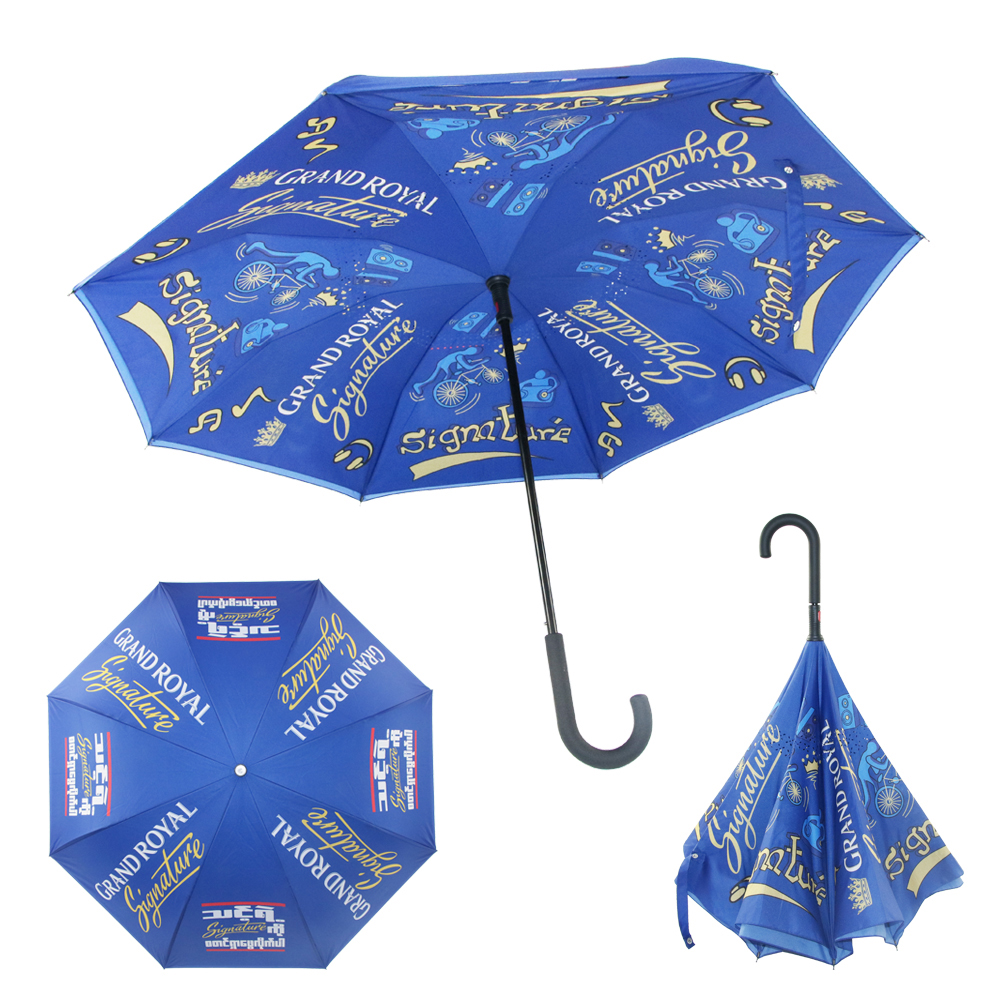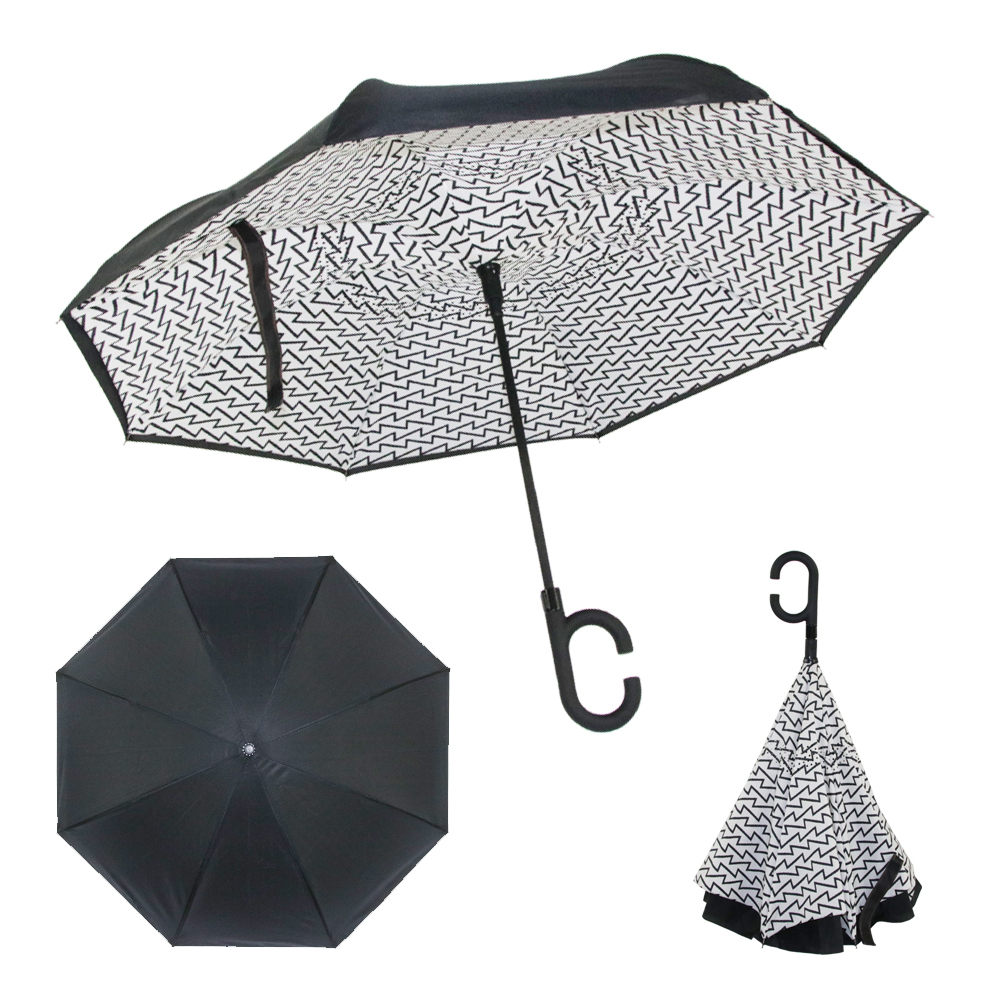 ENJOY FREEDOM OF MOVEMENT AND EFFORTLESS HANDLING: Innovated Inverted Umbrella Double Layer Design: With 2 layers design, the surface layer cleverly closed inward which keep the water inside. The original interior layer will reversely cover upward to keep the umbrella without dripping all around. Thanks to the special C shaped ribbed handle design that is larger than normal reverse umbrellas, this travel car umbrella allows you to keep your hands free and perform any task, without worrying about getting drenched in the rain. Hold your baby, carry your shopping bags, talk on the phone and do whatever you like effortlessly.
STAY DRY AND KEEP YOUR FLOORS AND CARS SAFE FROM WATER DRIPPING: No more wet clothes and floors for you! This must have wind resistant, folding reverse umbrella is exactly what you need to keep rain water from dripping in your car and all over your floors. What is more, the smooth opening and closing mechanism allows you to enter or exit your car without hassle.
Convenient automatic function for quick opening, reverse umbrella design prevents rain from wetting car seats. The c-handle frees your hands, and you can do more while you're holding the umbrella. The brand logo can be printed to better display the corporate image and culture. Fiberglass umbrella ribs makes the frame of the umbrella more stable.
---
Next:
New Design Hot Sell Auto Open and Close Mini Pocket Custom Logo Printing 5 Fold Umbrella From China
---